Many accessories are available or can be made for the ST1100. Some riders like to put their own personal stamp on their machine. As well as personalisation, there could be a requirement for a certain item which is not factory-fitted; for example a radio. Such additions are called "farkles".


This is an account of modifications I've made to my own machine, and those I still intend to install...
I have broken these down into separate sections as shown below.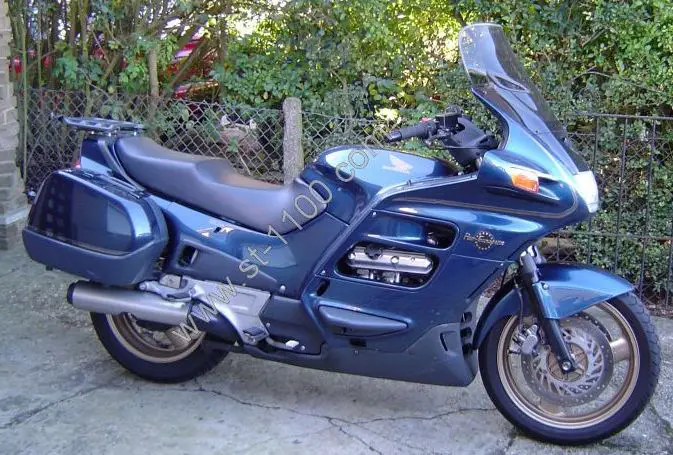 When I bought my ST1100 it had only done 9068 miles. The previous owner had decided it was just too heavy for him. The photo above is of the bike just after I got it home.

AERODYNAMICS/POSTURE
Baffle Plate
Fenda Extenda
Handlebar risers
Highway Pegs
Windscreen
ANTI-FOGGING
Visor Inserts
In which I also experiment with an aquarium air pump!

AUDIO
Music on the move
AUXILIARY FUSE BOX
Watch that wiring!
CRUISE CONTROL
Rest your wrist
DASHBOARD SHELF
Where do I put all these farkles?
GET NOTICED!
Aaaaargh!
GPS
Where am I?
HEATED GLOVES
Cold hands?
HEATED GRIPS
Cold hands? Part II
KNEE PADS AND SCUFF PADS
Protect that plastic!
LIGHTING
Auxiliary Driving Lights
Hazard Warning Lights
Headlight Upgrade
High Level Brake Lights
LED Lighting
LUGGAGE
How much can I carry?


Even more farkles can be found here!