I originally wanted to show a few of the improvements I've made to my Pan European ST1100 motorcycle.

As I developed the page, I realised more details were needed, and before I knew it, I was developing a full website.

I don't really consider myself a biker; friends and acquaintances talking about the latest motorbikes and their top speeds or relative horsepower never really interested me. However, looking back, I suppose I must be - I have owned 4 bikes over a period of some 25 years, culminating in my present vehicle, the Honda ST-1100.

I have travelled fairly extensively, and have lived in Uganda, Kenya, Tanganyika (now Tanzania), Australia, South West Africa (now Namibia), and South Africa. I lived in the UK for nearly 20 years; and now live in France in a very rural location in the middle of nowhere - although the compensation is that the roads are great for motorcycling - when I can find the time, that is!

My interest in motorcycles started when I was at university in South Africa. I bought my first car; an unreliable 1961 Fiat 1100. Although very cute (the doors opened backwards) - and a typical student car, it became a bit expensive to run with all the garage bills!

I therefore put an advertisement in the local paper to swap it for a motorcycle. The swap duly took place, I took my large motorcycle test, and my first bike turned out to be a Honda CB400N.
(Click photos to enlarge)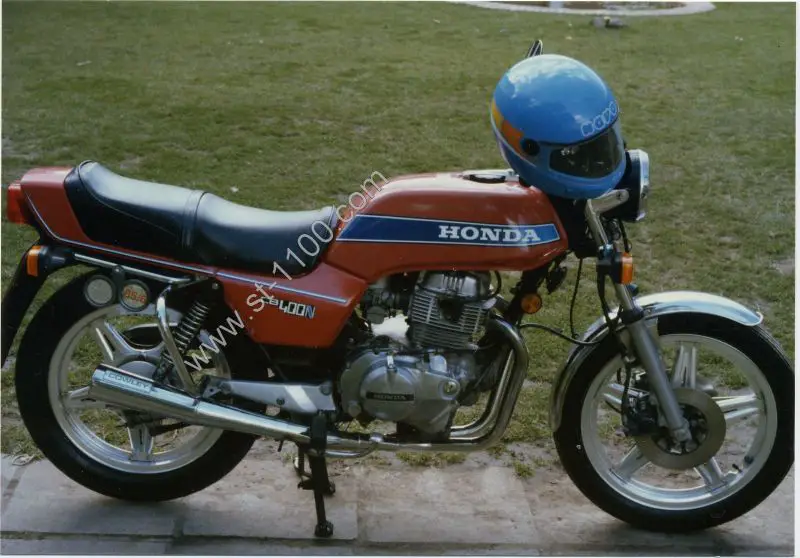 The bike did well. A friend and I occasionally went trout fishing on weekends. Picture the scene - two big blokes, one clutching two fishing rods, keep nets and sundry fishing tackle, perched precariously on what was in truth a fairly small motorcycle! But it took us there and back without complaint.

During one university holiday I did a 3000 mile tour. This started and finished in the Western Cape. My trip was fairly uneventful apart from one small incident; the chain broke, knocking one of the exhaust pipes off. Fortunately I was not too far from a garage. Once I'd bought and fitted a new chain and sprocket, and fixed the exhaust pipe back on with a jubilee clip, I was able to continue.

It was, however, wintertime, and I remember one early morning as I passed through a rain shower the temperature was so low that the water froze on the windshield.

After my mammoth trip, in the next university holidays I decided to rebuild the engine. My girlfriend's parents had an unused garage which was ideal. I stripped everything down over a couple of weeks and laid all the parts out neatly in the order they came off. Worn parts were replaced, and I put the engine back together again with the aid of a Haynes manual.

What I didn't know was that my girlfriend's stepbrother had been playing with some of the parts, with the result that a tiny pin went missing. I did not notice it at the time, but it was of vital importance; it stopped the oil pump cog from rotating freely on the drive shaft.

Once everything had been reassembled, I took the bike for a test ride. The oil warning light came on, but I knew full well that I had filled the sump with the required amount of new oil, so I suspected an electrical short and kept going. The engine seized.

So why do I still do my own servicing? Well, I learned from my mistake. But what happened to the next bike I owned demonstrates why I'm reluctant to pay a garage mechanic to do any work unless I know for a fact they have a good reputation.

A few years later, my next bike was a Suzuki Katana 600 shaft drive which I found abandoned at my place of work one morning. A few weeks later it was still there, so I called the police to check. It had not been stolen; and for some time I was unable to contact the previous owner. Eventually, several months later, I found out he had just abandoned it as the engine needed some work, so I took it to a local bike dealer who rebuilt the engine; I did not have the time to do this myself.

About a month later it was ready, and having paid the fairly large bill, I took it out on the highway. After about 10 miles my knees started feeling very warm and the bike seemed to be down in power. I pulled over and noticed the top of the engine was smoking and the spark plug leads had started to melt.

A helpful driver in a pick-up truck stopped and offered me a tow back home. A tow? That's right. I wouldn't recommend it! Still, I got home uneventfully, and decided to take the bike to a (different) bike workshop for a repair estimate. This one discovered that the first dealer had used the wrong engine gaskets, blocking the oil holes which delivered oil to the top of the engine.

I sold the bike as scrap.

My first bike in the UK was a Yamaha Diversion XJ600S.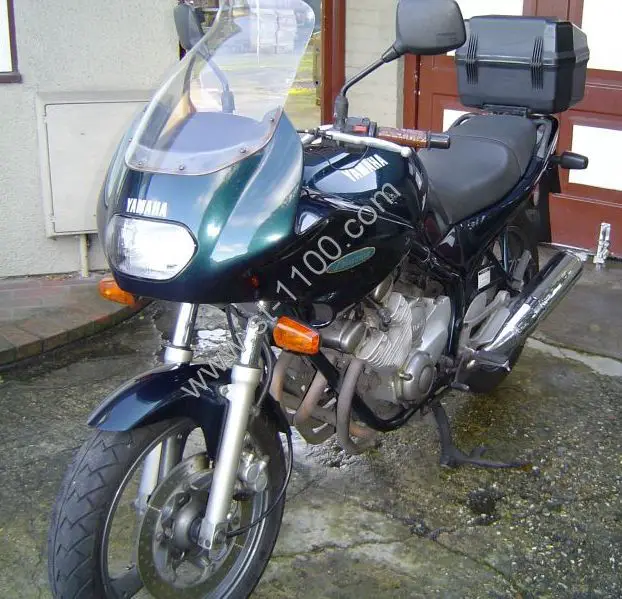 It was imported to the UK straight from Japan, and had the interesting feature that when the ignition was switched on, the headlight came on automatically; there was no Off/Park/On switch!

At the time I was commuting around 80 miles on a daily basis so the mileage soon mounted up. Once again I was doing all my own servicing except for major things like the valve clearance settings (and to be honest I would have done this as well except for the requirement of having a lot of different shims). Because I was replacing the air filter at the recommended service intervals I opted for a K&N air filter, which saved me money in the long run.

I was commuting in all weathers. One morning I discovered that it had snowed during the night, but this did not deter me - given the choice between taking the bike or using public transport, the bike won hands down. The motorway on-ramp was around a mile from my house, and I covered this distance in first gear with both legs extended just in case the front wheel slipped on the icy surface.

Once I'd reached the motorway I just rode in the tyre tracks of the vehicles in front, keeping to an even low speed with the rest of the traffic (I think I stayed in third gear). On the way home it started snowing again. By this time the roads had been gritted, but I had to keep wiping snow off my visor with the regularity of a windscreen wiper!

When I pulled in to the driveway at home, I discovered that the snow had built up on the front of the bike to a depth of about a foot, with a hole in the middle where the heat from the headlight beam had melted it! I wish now I'd taken a photo but at the time all I wanted to do was get indoors where it was warm.

Although a 600cc motorcycle is perfectly fine for commuting, I had always wanted a really big bike. Having seen several Police officers riding around on their Honda Pan European ST1100's, the design struck me as having an elegant simplicity - the bike just looked "right". So as the Yamaha started to get a bit tired, I decided to sell it and buy an ST1100. I bought the Pan and then sold the Diversion on Ebay.

As I've mentioned previously, I could not find a single website about the ST1100 which had all the information I was looking for, so I decided to create the site myself.

My other websites can be found here: