Every new ST1100 was provided with a set of tools in a plastic pouch. However, if you purchased your ST1100 second-hand, you may not be fortunate enough to still have this.

This is the original tool roll:

Toolbag
Grip
Screwdriver
Hex wrench 5mm
Pin spanner
Eye wrench 14mm
Spark plug wrench
Allen key 6mm
Eye wrench 10 x 12
Spanner 8mm
Spanner 10 x 12
Spanner 14 x 17
Pliers 150mm
Eye wrench 24mm
Eye wrench 27mm
Handle 12mm
(The toolkit for ABS models also contains a feeler gauge).

Although I keep this tool roll on the bike, I tend not to use it. Instead I have my own motorcycle toolkit: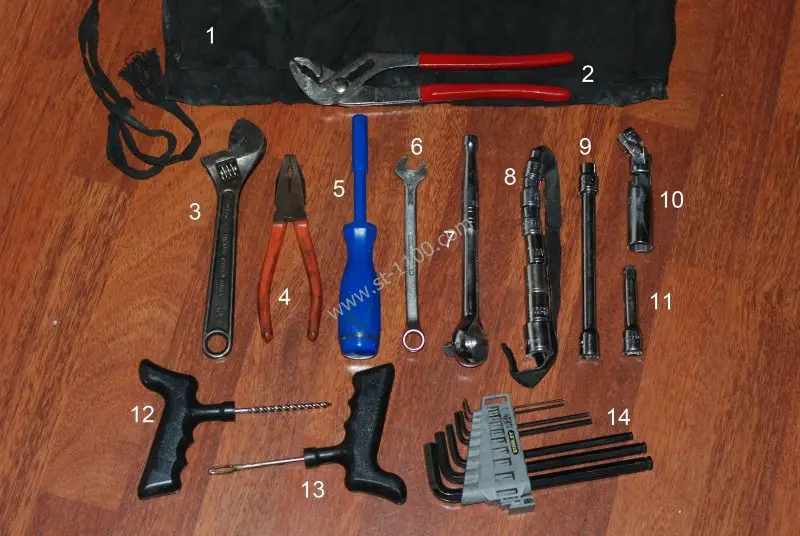 Fabric tool roll
Water pump pliers
Bahco shifting spanner (Crescent wrench)
Pliers 200mm
Magnetic bit driver with 6 bits
Ring/flat spanner 12mm
Socket wrench 3/8" drive
Sockets: 8/9/11/12/13/14/17 on a velcro tape
10mm socket on long extension bar
Spark plug socket on universal joint
Short extension bar
Puncture repair reamer
Puncture repair plugger
Set of Allen keys
In addition to these tools, I also carry a tyre repair kit, tyre inflator, a set of jumper cables (in the top box), a set of spare bulbs, and a roll of duct tape (amazing stuff, that).

In my garage I also have various power tools including a mig welder (which came in very useful for repairing the swing arm). Now obviously, a mig welder is a very useful bit of kit; if you already have one of these and can weld, fine. But don't feel you need to rush out and buy one.

A Dremel is a useful tool as well. There are various dremel parts available including miniature cutting discs which are invaluable for cutting through seized bolts.

As far as other power tools, I've found that my DeWalt drill is probably used the most.

Which make of tools should you buy? As long as they're of good quality it shouldn't matter. Tools like Snap-On have a lifetime guarantee, but are rather expensive. Buy the best you can afford; cheap tools will let you down when you least expect it.

Always work on the bike with the tools which you carry on the bike (as far as it is practically possible). That way you'll soon discover if you need to add to the toolkit which you carry. The reason for this is simple; if you get into the habit of always using a certain tool in the comfort of your garage, you could well be stuck if you break down and don't have that tool with you!

When routing the wiring for the Autocom, I thought that an electrician's fish tape would be a handy item for pulling the wires through without having to remove too many panels, but I found that the end was too large. It later came in handy for unblocking a drain though!