These questions were asked in 2012.


---
From:  E.G., Argentina

Q:        hola. como estas? quisiera saber si podes ayudarme a conseguir unos repuestos del carenado de mi st 1100 1991 si es asi, vemos como lo hacemos. desde ya muchas gracias .

A:        Gracias por tu mensaje. Lo siento no hablo español tan usado un traductor de la web, pero estoy seguro de que comprenderá la mayor parte de la traducción!

Puede averiguar qué partes necesita mirando la página de artículos para su modelo. El 1991 ST1100 puede encontrarse en esta página: https://www.st-1100.com/st1100m.html.

Mueva el ratón sobre los enlaces y le mostrará una vista previa de las páginas de partes. Creo que el uno que necesita se titula "Fairing" ("Carenado"). Esto le dará el número de pieza que necesite. Realmente comprar partes que puede hacer clic en la bandera estadounidense en la parte inferior de la página en lugar de la UE bandera como probablemente sería más barato comprar partes de los Estados Unidos. Sino porque ahora tiene el número de pieza que también se puede ver si hay un distribuidor de Honda cerca de usted y comprobar así que cuál es su precio.

---
From:  M.S., UK

Q:        Hi, I've just purchased a grey import '95 Pan and have started tinkering. The headlamp, what's the difference between a uk and I believe Belgium headlamp? I have found a bridged wire from one lamp to other. I wondered if it was worth getting a replacement headlamp?

A:        Thanks for your message.

Congratulations on buying an ST1100! To the best of my knowledge, the European ST1100 headlight is generally a flat beam, emitting the same amount of light to both sides of the road. As long as the headlight has an "E" marking you should be fine, but obviously the MOT test will tell you if the lights are not adjusted correctly. If your headlamp is not one of the "flat beam" types but has the light biased towards the right, the only solution would be to replace it with a UK-spec one.

But if the bike passes the MOT, then you shouldn't need to change the headlamp unit at all.

Regarding the bridged wire, I suspect you should be able to remove it. In Europe, pre-1997 motorcycles with twin headlights are only allowed to have one illuminated when the lights are dipped (both may be on when using full beam). Post-1997 motorcycles may have both headlights illuminated for both dipped and full beam.

Update: As I've now moved to France, and experienced the joys of re-registering a motorcycle under the French system, I can now point out that even though my original headlamps were the "E" marked "flat beam" variety (and perfectly legal in the UK), the French legislation demanded that they be changed so that they deviate to the right. Not only that, but the new headlamps only have one illuminated when on dipped beam (and both when on full beam). I now know why the Belgian Pan mentioned above had a bridging wire; I did the same alteration to mine so that both headlamps were on for both dipped and full beam. You can read all about the joys of the re-registration process here.

---
From:  G.F., UK

Q:        I was thinking of buying a pan but was told its a very heavy bike and as i am 71 years young now pretty well built and muscular what are your thoughts about this please?

A:        Thanks for your message.

Yes, the Pan is a heavy bike. But it seems to shed its weight as soon as it starts moving! I'll be perfectly honest with you, its weight is irrelevant. Putting it onto and taking it off its centre stand is purely a matter of technique.

Likewise, it's the technique which counts when lifting it up to the vertical again (having had the misfortune to "drop" it onto its side). This can even be done by a fairly small woman. Take a look at http://www.pinkribbonrides.com/dropped.html to give you an idea - the bike pictured is roughly the same weight as a Pan.

A more important consideration is your height. If your legs aren't long enough to comfortably support the bike upright whilst seated, then either you'll need to get a modified seat or choose a different bike.

Will you personally find it comfortable to ride? I suspect you will, but only a test ride will tell.

I would suggest contacting the Pan-Clan to see if there's a meet near you - you may then be able to take a closer look (and perhaps even discuss the techniques with the members). Perhaps you'll even find the ST1300 more suitable (although personally I doubt it!)

---
From:  M.C., UK

Q:        Hi, wonder if you can help, I have a pan st1100 ABS CTS. the problem is the rear brake is just catching its getting rathe hot, i have changed the pads, and done the fluid. im now at a loss.

A:        Thanks for your message.

It sounds like you have a sticking piston. This is fairly common especially on UK roads with all the road salt they spray everywhere. The only remedy is to dismantle the caliper and renew the piston seals (you may consider going for stainless steel pistons whilst you've got the caliper apart. Wemoto do them.

It's an easy enough job to do if you have a Haynes manual. It's fortunate it's the rear, I had a major problem trying to get the front caliper off mine (now I grease the bolts every now and then!) Details of the job can be found here.

---
From:  K.A., UK

Q:        Hi, I contacted you some time ago and gained some great info regarding an auxilliary fuse box and fittin. I thought I'd let you know about my recent issue. I had been out for the day with my wife when I noticed a drop off in the clutch travel. There wasn't much I could do until I got home and the bike was still usable.

I discovered that the problem was a water leak, the two water connectors which sit under the carbs had a hairline crack in them (Yes both) Fortunately these items are still available, were used on the VFR800 up until 2009 I believe. I had been experiencing water loss which I couldn't track before this event but was rather dismayed to find the root of the problem.

Having spoken to my friendly, great help Scooter dealer, he informed me that repairing them if not broken off is possible but not an easy task with no guarantees of it working. He wasn't in the least bit surprised, the bike is 19 years old though so I suppose some problems are to be expected.

At least there is a relatively easy solution and not horrendously expensive either. If in USA there is cheaper availability but not here in the UK.

Just thought I'd let you know in case others hit the problem.

A:        Thanks for that update; I'm sorry for the delay in replying but although our move is complete (still living out of cardboard boxes though) we're having to use a neighbouring farm's telephone line for dial-up internet access (maximum of 30k speed). Oh how I miss broadband!

On the plus side, I really enjoyed riding the Pan down to France from Reading (even though the trip took 12 hours; we stopped for a break every hour or so).

I just wish I had a video camera set up on the bike as we took the back roads instead of the motorway, and some of them were quite picturesque!

---
From:  M.B., USA

Q:        Can you supply the part number for the mirror housing and mirror. My friend dropped his 1994 ST100 in the parking lot and broke his. I cannot find the part looking at the fische diagrams. I am trying to find a replacement. Even a used one from salvage is OK since I can paint and install it. Thank you for any help you may be able to render.

A:        I'm afraid the parts you describe aren't easy to find on the parts fiches! The page you want is https://www.st-1100.com/st1100-parts-fiche-windscreen-st1100ar.shtml and the parts are labelled 12 and 13 or 15 and 16, depending on whether it's the left or right side. (You'll need to select the "USA" checkbox if the bike is black in colour). You should be able to get the required parts numbers from this page.

If the bike is a non-ABS model the page you want is https://www.st-1100.com/st1100-parts-fiche-windscreen-st1100r.shtml (although to be perfectly honest the plastic parts are identical on both the ABS and non-ABS models with the exception of the front mudguard).

---
From:  I.P., UK

Q:        Love the site very informative, I own a 1998 st1100w and am a member of the Honda owners club GB and have spoken to many st1100 owners and all say you cannot fit a full face helmet in an 1100 side pannier, do the panniers on your bike have a modification that allows this?

A:        Thanks for your message - and glad you like the site!

I'm afraid the owners you've spoken to must have different helmets to mine. I have a Shoei XR1000 full-face helmet - not only that, but it has Autocom speakers installed which means there's a long wire dangling from one side as well. I can confirm it fits quite happily in a side pannier, with the visor shut or open.

My wife has a Shoei full-face as well, and it will fit in the side pannier too; although this is never done because the left-hand pannier is full of stuff like the Slime tyre inflator, toolkit, bungee cords, rope... and my helmet has priority in the right-hand pannier, so she has to carry hers.

No, I haven't modified the pannier at all, so can't understand why the owners you've spoken to say it doesn't fit. Unless they have ST1300's of course - if that is the case then no, a full-face helmet won't fit. (No idea why Honda decreased the pannier width on the ST1300).

---
From:  B.M., UK

Q:        have you heard of a problem with st1100's in which they start and tick over great and even drive up to 4-5000 revs then just die.my 1996 ex police bike has been in dealers with this problem for five weeks now and no-one seems to be able to fix it. any held or information would be very helpfull.

A:        Sorry for the delay in replying but I was out of the country for a week.

Fuel. It's a fuel issue. I suspect there may be a punctured or perished diaphragm - at higher revs, more air is drawn through by the engine vacuum instead of fuel. Insufficient fuel - engine dies.

But the dealership should certainly have spotted that! I suspect their mission is to sell you a new bike...!

Hopefully you can direct them to this - it is a known issue with older bikes.

---
From:  M.B., UK

Q:        Thanks for providing such an informative and useful website. As a recent convert to the ST1100 this site has proved both helpfull and very interesting.

A:        Thanks for your message - and I'm glad you like the site!

May you have lots of trouble-free mileage on your ST1100!

---
From:  M.K., Pakistan

Q:        First of all hoping that you are Fine.

After knowing about your Company we feel pleasure to Introduce ourself as a Leading & Genuine Manufacturer of Top Quality Gloves and Leather Made up Items.
Our Production Line is as below.

LEATHER JACKETS
LEATHER TROUSERS
LEATHER SHORTS
LEATHER VESTS
KARTING GLOVES
WEIGHTLIFTING GLOVES
MECHANIC GLOVES
MOTORCYCLE GLOVES
MOTOCROSS GLOVES
WEIGHTLIFTING BELTS
GYM GLOVES
GYM BELTS
CYCLIING GLOVES
LEATHER GLOVES
LEATHER GARMENTS
BOXING GLOVES


We are already working with some Valuable Customers around the world and still hoping to expand our business relations with some more worthy Customers so for we are contacting with you with the hope that you will give us chance to work with you.

Be sure you will feel much comfortable while working with us as you will get every item as per your satisfaction with reasonable prices & Prompt deliveries. Any Inquiry for your required items in this regard will be treated as most important one and will be welcome.

Thanking you in advance for your close co-operation and hoping to hear from you very soon.

A:        No thanks, not today.

---
From:  I.R., UK

Q:        hi,got a 2001 pan wont start just clicks,somebody has hit alternator broke peice of,could it be seized?where is starter motor located?

A:        Assuming the battery itself is fine, my first point of troubleshooting would be the starter relay, as these have a propensity to fail after a while. It's underneath the left-hand side cover next to the battery.

Check the fuse first. If it's ok, disconnect the battery.
Then disconnect the relay wiring connector so you have access to the rear terminals.
Unscrew the bolt leading to the starter motor lead (the lead running towards the front of the bike. The starter motor is above the oil filter.)
Now reconnect the relay wiring connector but ensure the starter motor lead does not touch anything - wrap a piece of cloth around the end for example. Reconnect the battery.
With the ignition switch on and the engine kill switch in the Run position, make sure the bike is in neutral. Pull in the clutch and press the starter switch. You should hear the relay click. If it doesn't, you need a new relay.
If it does click, the problem could be one of several things including:
Battery
Starter switch itself (contacts wet, corroded or dirty)
Poor earth connection
Ignition switch defective
Engine kill switch defective
Faulty neutral, side stand or clutch switch
Defective starter motor.

I would check each of these in turn using a multimeter in order to try and find out the source of the problem.

Regarding the alternator (or generator!) I wouldn't think it's seized but it's difficult to know without seeing it! It also depends how big the broken-off piece is, and where it's broken from!

(Later update received:) removed starter and that spins put back in bike still clicks,so suspect alternator or engine seized,thanks

---
From:  D.H., UK

Q:        Hi, Do you have any experience and/or photos of OS Pipes s/s silencers, I'm considering buying a set. Don't like the look of Motad and the bike is currently wearing a set of Delkevics which are awful.

Any advice welcomed.

A:        Thanks for your message. OS Stainless was the company I used when my OE silencer rusted through underneath. I didn't like the look of the Motad exhausts either. OS Stainless were very helpful; their instructions which came with the stainless steel system were rather sketchy, but everything fitted together well! I have been very impressed with the quality; I fitted them in 2004 and they still look great. Obviously they're a bit stained at the rear where the exhaust gases exit, but the rest of the system is still shiny.

There's a couple of photos on the Exhausts page: https://www.st-1100.com/motorcycle-exhaust.html.

The attached photo was taken when renovating the rear swing arm in 2010; it shows the silencers quite clearly (after six years' use!). No idea what they cost nowadays, but at the time I think they cost me around £400. But money well spent; with the mileage I put on the bike I would probably have gone through two or three sets of normal silencers by now.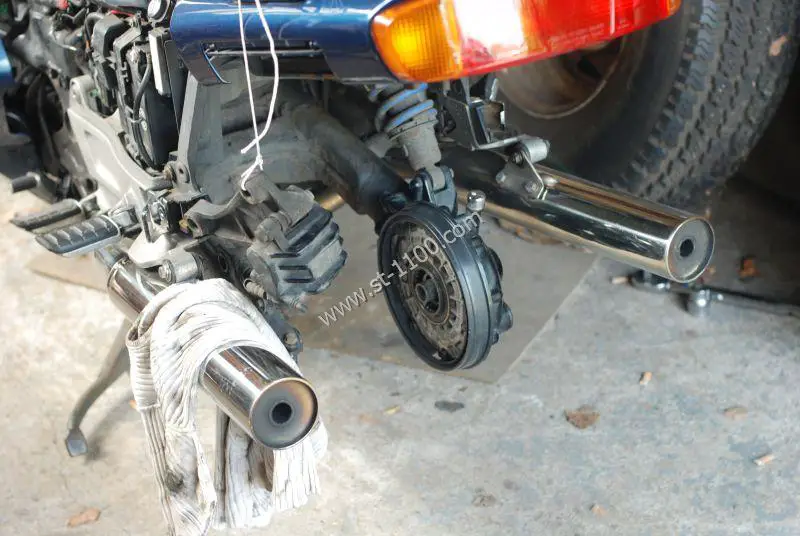 ---
From:  S.F., Italy

Q:        Sarei interessato all'acquisto dei due coperchi con quelle caratteristiche:COPERCHIO, R. SPECCHIO * NH284M * 88111-MT3-003ZB NH-284m 1 (Euro Grey Metallic)
16 COPERCHIO, L. SPECCHIO * NH284M * 88121-MT3-003ZB NH-284m 1 (Euro Grey Metallic)
Quanto costano?Potresti farmi un preventivo di spesa con tempi di consegna?

A:        Ciao a tutti

Grazie per il tuo messaggio. Non fornire pezzi di me stesso, ma se andate a questa pagina: https://www.st-1100.com/st1100-parts-fiche-windscreen-st1100l.shtml e quindi fare clic sulla bandiera Euro in fondo, è saranno adottate per un sito che può essere in grado di aiutarvi.

---
And finally:
From:  D.G., USA

Q:        We can increase rankings of your website in search engines. Please reply back for more details.

A:        No thanks. I'm already well-versed in SEO. Saying that you can rank a website highly in the search engines means that surely you should get more than enough customers to your SEO business website through organic search without having to email all and sundry? Or have you perhaps been penalized by Google's Panda or Penguin algorithms, and dropped in the SERPS?

I'm afraid I'm going to decline your offer of a FREE website evaluation. I have four websites, which you would know if you had taken the trouble to read my "About" page; and I'm fully aware of how they're ranking and how they can be improved.

---