You'll hear it when the motorcycle exhaust needs attention! Since getting the bike, I'd covered just 3,000 miles when I noticed it was sounding a bit noisy. A closer inspection revealed the exhaust collector box had rusted through.


I used some exhaust sealant to plug the holes whilst I considered a new exhaust. I could replace it with a standard OEM exhaust, or spend a bit more money on a stainless steel system. Well, seeing how the original exhaust had only lasted 12,000 miles (and three years) I decided to once again opt for a stainless steel version (I had fitted a stainless steel exhaust to my old Land Rover, which lasted for years until I sold it - the Land Rover, that is, not the exhaust!)

Some research unearthed the company OS Stainless. Although they have a website and do mail order, you can't actually order from the website, but apart from that, their customer service is great. A few days later the exhaust arrived. The first thing I did was the magnet test.

Magnet test? Well, apply an ordinary magnet to a mild steel exhaust, and it sticks quite happily. It will readily stick to poor-quality stainless steel as well. I was delighted to find it did not stick to the OS Stainless exhaust at all.

Now the downpipes themselves are stainless steel, all the way up to the collector box. Why didn't Honda just use stainless for the rest of the exhaust system? It must be another of those cost-cutting measures.

Supplied with the exhaust were the requisite brackets (again stainless steel) and a handwritten note with diagram explaining how to fit the exhaust.

So, off with the belly pan and side panels. The existing downpipes could be left in place, but I decided to remove them for ease of access. The reason for this is that they need to be cut; the new exhaust then slides over the existing pipes. It's a fairly tight fit too.

The red line in these photos indicates where it was recommended that the existing downpipes be cut:

Just to be doubly sure there were no leaks here, I applied some exhaust sealant near the cut ends of the existing downpipes before I slid the new sections on - this also acted as a lubricant, assisting in the installation.

The silencers were then easily attached to the bike frame.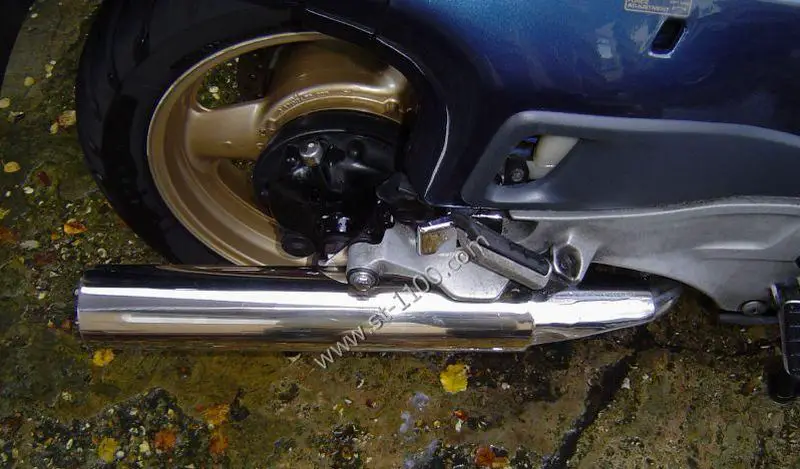 Mmm, shiny!

(It has been 16 years and I have done over 65,000 miles since fitting the exhaust, and it still looks - and works - just fine. There is some slight staining at the rear of the silencer, but that's all.)