Nangkang Roadiac 160/60ZR17
by BigRoj
(Gedling, Nottingham, UK.)
I wanted an Avon AV55 Storm Ultra to replace the Battlax that was getting a bit bald on the rear, as I had got an Ultra on the front and found it to be pretty good.

However when I tried to get one from my usual supplier (mytyres.co.uk) they only listed the AV56 and AV57. Looking through the listing supplied I noticed that there was a Nangkang priced at £70.50, which I thought was a bit too cheap. I've had Nangkang tyres on various cars and always found them to be very good, both in terms of grip (dry & wet) and longevity. (And, of course, price)

So I decided to give it a try. It's described as a dual compound rubber, hard in the middle and softer on the edges, along with some technical jargon which I assume to mean it's built terribly well and will be almost indestructible!

Some tyres, when first fitted, feel a bit skittish on corners as the silicon mould release, used in manufacture, takes a while to rub off. But this tyre felt superbly sticky from the first ride, which was a good thing seeing as I overcooked a tight bend coming home from work, going a bit faster than I should have been, and having to crank the bike right over to get myself out of trouble!

Quite how long it's going to last is another story, just as long as it's more than the 4000 miles the Battlax lasted.

If you fit your own tyres, like I do, with tyre levers, washing-up liquid, blood and exotic swear words, you shouldn't find it too much trouble as the tyre is extremely well made and very flexible.


Replies
Rob
I've never heard of Nangkang. But at that price it seems a very good deal, so I'll be interested to see what sort of tyre life you get out of them.

Once the ST1100 is back on the road (see my blog post "Never Buy a Honda") I will be thinking about replacing the tyres as I've noticed a cut in the front tyre sidewall, and the rear already has a plug. (They're both Avon Storms).

I was thinking about getting Metzelers but another review published today in the Metzeler tyre section is giving me second thoughts.

The wife has Kumho tyres on her Hyundai, and they've lasted absolutely ages. (My point is that just because a tyre is made in the Far East doesn't mean it's no good).
Anonymous, Aug 05, 2012
Hi, the Nangkang Roadiac exists in the 160/70ZR17, too? The original dimension of the rear tyre of the ST1100 is this one. Many thanks for your comment.
BigRoj, Aug 06, 2012

Senior moment!
Ah, right, that explains a few things then! It would appear I have fitted the wrong size tyre! In my defence I took the size off the tyre that was on, and since I've been running about for a year on the old one, it can't be all that detrimental.
A tyre of the correct size would've cost me £50 more so we'll see how it goes.
It may also explain why the TCS kept working more and more at motorway speeds as the old tyre got more worn. The recommended size would maybe not have done this. Possibly.
Nangkang don't do a tyre of the size recommended for the Pan, in fact, at the moment they only do 1 front wheel and 3 rear wheel sizes, but I guess as people realise how good these tyres are they'll add more, popular sizes.
Just got to get the ABS to behave itself now. This isn't a result of the tyre thing, this problem has been ongoing for quite a while, most noticably after the bike has just had a wash. So it's been quite a pain with all this rain we've had.
BigRoj

Update.
Well, the Nankang lasted for about 8000 miles on the rear tyre, and throughout it's life it never once gave cause for any concern at all.
Apart from the puncture that is, but that wasn't the tyres' fault, but the self-tapper it picked up whilst cranked into a corner at a brisk pace. Even then the only thing that alerted me to the fact was a floppity noise which I thought was a terminal event in the engine!
I would definitely recommend these tyres for the Pan, and I see they now do the right size tyre for the front, although not the recommended one for the rear, although the one I fitted (by mistake) worked just fine.
The Pan has now been sold, and in it's place I have a Suzuki VX800, which will be fitted with Roadiacs front and rear in the very near future.
---
Shinko
by JP Kalishek
(Alvarado, Texas, USA)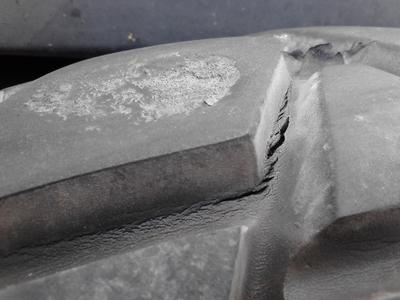 Do you have the Shinko brand on your side of the water? These are from the factory that used to make Yokohama MC tires.


I have gotten decent mileage from the Verge 011 in 170/60 and 120/70. The tires are usually the cheapest. They used to make a Cruiser type in 160/70 but it seems to have been discontinued.
I started a cost per mile assessment on tires recently and started with Shinko's Adventure tire in 150/70 (a tad larger in diameter than a street tire in 160/70 4000 rpm was about 78mph when new) and a rear in 120/80 for the front(tube type run tubeless).


I started this last fall. Over the winter, I ran the bias tires and I got 7686 miles from the rear, at a cost of $0.0117083008 per mile. So just a tad over a penny a mile.


The front was too big and rubbed, especially at high speed (Texas does have roads with 80 and 85 mph limits ...it was there ... no, really) so I purchased a Kenda in a similar style (K761) for the front in the 110/80 size (it was a bit larger than stock making a correction of 98.8% on the miles) when I got a Shinko Radial version for the rear (supposed to last longer).


I started to have higher wear and possible heat issues on the tire (signs of possible blistering) but had a puncture on a very hot day, and the first plug spit out, so two flats on the same day. The second plug job held, but I had bad blistering, and on replacement saw internal damage (it was 110F/43C air temps, who knows how hot road temp was). I think the bike is a bit too heavy for the tire in these conditions. In cooler temps, I feel fine using the tires. Some of the Adventure riders on lighter bikes are getting good miles from these tires though. Wet weather grip was fine for me, and over all traction was fine. I could easily drag the pegs in corners with no drama in the dry.


The front in 120/80 is now a rear tire on my old XL250s and still going fine, albeit on a much lighter bike and less often use.


I ran a Michelin PR3 set in 150/70 and 110/80. Again the 150 is supposed to be slightly larger in rolling size than the 170/60 (yeah, they do not make the 160/70 either) and my RPM at 75 actual speed (via GPS) was near the normal 4000rpm.
I just finished a long trip with most of the riding in West Virginia (lots of turns) and I look to be getting not a lot better mileage from the PR3 than I did the first 705. I think my next set (the front is wearing as fast as the rear btw) will be a set of Shinko Verge in 170/60 and 120/70.
---
Do you have any other brands to recommend? Leave a comment below.