by: Ian McFarlane
(North Yorks, UK)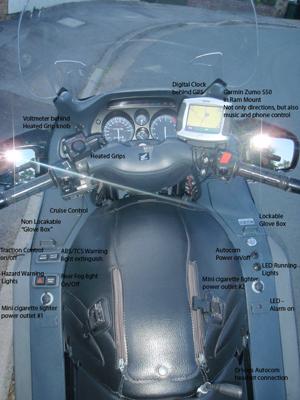 (Click here for a larger picture)

I bought my ST1100 AV in 2008 with one previous owner.

She already had a number of modifications:
Higher screen, Wind Deflectors, LED running lights, Rear Fog Light and Hazard Warning Lights - but the one that I was really interested in was the electronic cruise control - very effective and easy to use.

I have since added:
GPS - Garmin Zumo 550
Autocom
Autocom Bluetooth
All of which means that I have navigation, music and telephone!
---
Visitor comments
your acccessories
by: larry
Oct 2, 2010
very good..

Impressive!
by: Nige
Oct 8, 2010
If only I had the time, money & electrical know how!

Pan RIP
by: Ian McF
Oct 9, 2010
I'm afraid it's all bad news now!

Idiot U-turned onto the A1 right in front of me on Thursday night. I managed to get from 70 to approx 20 therefore the impact wasn't too bad, but we both went down, I managed to roll and tumble down the road a lot better than my pride and joy.
Photos to follow, but they're not pretty!

Apart from a few bad knocks and bruises I'm fine.
Clothing and helmet trashed, bike is likely to be written off

Nice!
by: Kent
Aug 5, 2011
Which foglights did you install, did you use the police mounts?

Wondering if you wired everything directly or through a power "strip" to maintain power?

I'm about to get The Bee back from the painter. Keep thinking about foglights for safety at night. Here in Wisconsin (USA), I live in the country and frequently drive home from work through some low, fogy areas where I can't see well, and where Deer sometimes cross the road.

I'm considering adding a wooden "farkle control panel" on one the left pocket, for a clean, custom look. I'd be able to remove it to add switches for more farkles!

Loved your bike - sorry to hear about the crash. Been there, done that (why I won't ride without protection.)

well impressed
by: larry
Aug 6, 2011
I'm well impressed, by what you have done. it makes me want.. to add more to my ST.

Update
by: Ian McF
Nov 20, 2011
Thanks for your comments Larry and Kent

I've had a very busy summer and about to clean, wash down and cover up the mighty Pan (MkII) for winter.

We've done about 8,000 miles this year, lots of which has been part of a long distance commute using motorway and some great A roads.

Still sorting out the insurance claim so my only mods to MkII have been to refit Autocom and a borrowed Satnav.
I've been using a crampbuster fitted to the throttle to help on longer stretches of cruising road. This gets in the way around town and on the curves so I just twist it out of the way

A lot of the wiring on MkI was directly made but the previous owner had fitted an additional fusebox under the seat. This had a cable from the battery to feed power and then 8 separate fuses for different consumers. It seemed like a good idea and one I'll copy but I think I might put the box inside the front fairing somewhere. There appears to be plenty of room either side of the forks. Out of sight, reasonably well protected and accessible without having to run a mass of wires from back to front of the bike.

The front additional lights were a strip of LEDs. They were useful but not really bright enough. There are some high intensity units available and I think a nudge to Santa might be helpful. The police recommend two additional front lights to help enhance your appearance from head on (a "looming effect"). Fog light at rear was actually achieved just using brake filament on one side (don't ask how he did this).

I'm very happy with my front lights. On main beam I find them a lot more powerful than most cars and really "punch" through the night to help with high speed on unlit twisty roads. To be honest, if the deer was there, I'd rather not see it!