by: Tony
(Eire)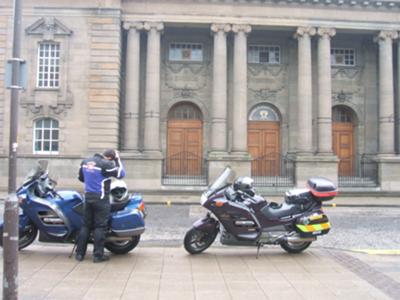 Outside Perth City Hall - The morning after the night before. A 5 day trip starting in Dun Laoghaire - Eire, stopping at Preston Lancs (3 days), Edinburgh, Glasgow - (Overnight)...

Then Perth, Inverness via Caingorms(arriving at 5pm and getting dark!), Elgin, Aberdeen, Dundee, Perth, Glasgow, Kilmarnock, and finally arriving in Ayr at 2am, wet.

Up next morning for Stranraer ferry - Belfast, Dundalk, Dublin and finally back to Wicklow. Mega mileage - most of which was in the dark and pouring rain , but a thoroughly enjoyable trip.

Thats my 95 ABS TCS in Burgundy - featured previously in radio farkles... and mates 98 ABS TCS CBS in Blue - currently undergoing full rebuild and re-spray.

---