An electric tire pump (or preferably tyre pump!) is an extremely useful piece of kit. It's small enough to be carried in the ST1100 pannier, and it certainly saves your leg muscles!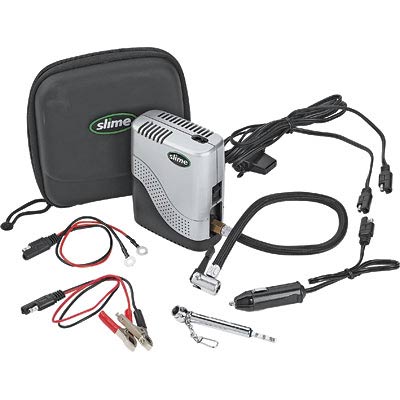 When I was growing up, we had an old Peugeot 404 station wagon. One of the items my Dad always carried as part of the "emergency kit" was a foot-pump. I've no idea what make it was; it had a solid steel frame, with a lovely brass cylinder, and was fairly heavy. However, it was extremely effective - and even as a nine-year-old I had no trouble inflating a car tyre with it! Unfortunately I have no idea what happened to it.

I did buy something similar a few years ago - but it was nowhere near as good as the old brass one. When I had to use it in earnest to reinflate the ST1100 rear tyre, I discovered just how much work it involved.

Have you ever tried pumping up a motorcycle tyre manually using a foot pump? It takes a long time - a single cylinder pump takes over 100 strokes for the tyre to reach proper pressure. The other disadvantage can be that the ground is not always flat with a nice hard surface to support the pump properly. So it was a fairly easy decision to get an electric tyre pump. The type I chose was a Slime Power Sport Tyre Inflator.

I have used it twice now to inflate a tyre from flat, and am quite pleased with the light weight and compact design. It's a versatile, compact air compressor and is apparently able to inflate up to 300 PSI (not that you'd ever need that sort of pressure for a motorcycle tyre!) It adapts to any 12 volt power source. The kit includes a main harness wire with fuse, an alligator clip cord, an A/C power cord, and a pre-wire cord. Also included are tools and adaptors for tyres, balls, beach toys and other inflatables.

You also get a quick-clip, a valve core removal tool and filler tube, pressure gauge, and a rugged carrying case.

Its only disadvantages are that it does not cut off automatically when a designated pressure is reached, and you're not supposed to leave it running for longer than 8 minutes. However, when I turned it off after 8 minutes the tyre had reached 40 psi from flat. It's noisy and vibrates quite a lot, but certainly does the job! I made a slight modification to the wiring; I cut off the end of the cigarette lighter adaptor, and used this connector for my electric gloves harness. By doing this I have a connector which not only has its own on/off switch but can be used both for the electric gloves and to power the Slime pump.


I'd personally steer clear of using the Slime liquid tyre sealant though. One other thing - I don't think much of the little tyre pressure gauge you get with the Slime electric tire pump. It's fine for emergency use, but I wanted something more substantial. I therefore bought a more accurate gauge. It's easy to read, comes with its own protective case (although it's shock-resistant anyway), and the accuracy is ANSI grade B. It also features a pressure release button which can be useful if you've slightly overdone the tyre pressure!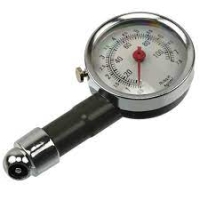 With this gauge, the reading is guaranteed, and I use it weekly - not only on my Pan.