"Passion for Excellence" is Bridgestone's motto. If you happen to follow the Formula 1 Grand Prix, you can not have failed to notice that they were the sole supplier of tyres.

The company was founded in Japan in 1931. Passion for Excellence? Hmm. Perhaps they should add "attention to detail" - note the early history of the company on this screenshot taken from the Bridgestone UK site:
Rear Tyre
There are currently several types available for the ST1100.
Firstly, the Bridgestone Battlax BT-020. This was redesigned in 2003 and is purported to offer much higher levels of comfort, exceptional grip, and good levels of stability.

The Battlax BT-021. A replacement for the BT-020 series. Three years in development, it offers improved stability, sports tyre performance and increased wet weather performance.

Then there is the Battlax BT-023. Launched in February 2010, it is advertised as having consistent high-level performance for both touring and sport riding. It has a combination of good wear life and wet performance for touring, whereas for sport riding it offers grip and steering control.

Finally, the Exedra G548. This is a bias ply tyre, not a radial ply. Fitted to the ST1100 as an OEM tyre.
Front Tyre
The Battlax BT-021 fits, but I wouldn't recommend it. Longevity is a problem - I have seen it reported that it lasted as little as 3,000 miles with uneven wear. Bridgestone refused to comment.

Then there is the Battlax BT-023. As mentioned above, it was launched in early 2010 to replace the BT-021.

The Battlax BT-45. A touring tyre, available in both H and V ratings. It is advertised as having all-round street performance, riding comfort, longevity, and wet performance.

Finally there is the Exedra G547. A bias ply tyre fitted to the ST1100 as OEM.

-------
Bridgestone seem to cater more for racing tyres than touring, so don't expect too much mileage out of them.

I'll state quite bluntly I'm not a fan. When I first got my Yamaha Diversion XJ600S, it had Bridgestone tyres. They didn't last very long, so I tried Dunlop. Whilst researching this web page I came across an old spreadsheet relating to the Yamaha showing the service record (I'd given my logbook to the new owner when I sold the bike). The Bridgestone front (110/80 - 17) lasted - I'll admit - a fairly reasonable 19615 miles before the tread wore off. The rear, however, (130/70 - 18) lasted just 6000 miles.

The ST1100 also had Bridgestone tyres when I got it. The previous owner had kept the receipts which allowed me to accurately calculate the mileage covered (see table on the Avon page).

After just 3000 miles I suffered an irreparable puncture in the rear tyre. I must have ridden over some broken glass, as the tread was slashed right across. I've no idea why it was the rear tyre which suffered; the front was fine. I called the AA (Automobile Association - I thought I'd better clarify that!) who loaded the bike into a large van and dropped me at a motorcycle tyre dealership. From my previous experience with the Yamaha, I was adamant I didn't want Bridgestone tyres, and the only other make they had in stock were Avon.

(I'll admit this was not a true test of the Bridgestone longevity, but research since then on several internet forums has revealed that I was not the only rider dissatisfied with this brand - although I've read several recommendations for Bridgestone tyres along the lines of "excellent roadholding in wet and dry conditions. Lasted FOUR THOUSAND FIVE HUNDRED MILES!!!")

Amazing. If my tyres lasted as long as that when I was commuting I'd have been fitting a new rear every 11 weeks. "Kerching", says the Bridgestone cash register.
Visitor comments
AVOID
Anonymous
I HAVE JUST COMPLETED 2530 MILES BETWEEN MOT'S AND REQUIRE A NEW FRONT TO REPLACE THE BATTLAX BT021 ON MY ST1100. NOT IMPRESSED. THE REAR IS CURRENTLY STILL GOOD BUT IF IT STARTS TO GO I HEAR THEY WEAR QUICKLY. AS I RIDE YEAR ROUND IT WILL BE TWO NEW TYRES AND THEY WONT BE BRIDGESTONE...!!

Bridge stone Battlaxe BT-023
by Ian Scott Moyes
(Castle Douglas)
Stick to wet tarmac like toffee to a dog's teeth.

Angryjock, Aug 1, 2018
Tyres to keep you shinney side up
Couldn't agree more, not the thrifty option but since owning my pan for 17 years touring and scratching round Europe and Britain they have been the best option

Bridgestone BT021 poor mileage
by Ian
(Ireland)
I fitted a Bridgestone BT021 front tyre to my ST1100. It lasted for just 8000km before the sides were worn bald - the right hand side more so.
It gave fantastic grip though.

Rob, Oct 2, 2010
Bridgestone longevity
This proves my point.
It's all very well having excellent roadholding and grip, but if you have to buy new tyres every five minutes it can work out just a tad expensive.
Imagine if the tyres on your car only lasted 8000km. Would we be happy with that? I don't think so.

Anonymous, Oct 3, 2010
My BT021 experiences
I had just over 10,000 miles from my last front tyre, also a BT021. There was probably another 1500 miles left in it, but it was the start of the riding season, the bike was due its MOT and I was having a rear tyre fitted. Having it all done in one go just made sense.
I'm on a matched pair of Avon Storms now with nearly 10,000 miles. Going strong with good grip and plenty of life left in them.
I've been averaging 12-15,000 miles per year, mostly motorway miles at "motorway cruising speed".

Bridgestone Exedras and BT020 tyres
by John Driscoll
(Leeds, West Yorkshire)
I have BT020's on my Fazer 600 and BT Exedra's on my ST100 and the only problem I have is the front tyre on the ST1100, wears around the edges but not in the middle, causing a heel / toe effect. Various comments about it being the tread design or being run under-inflated, but nothing I do seems to work.
As for the rest (Rear Exedra & BT020's) I've had them on for between 8 - 10k miles, and still plenty of tread on them and loads of grip and feedback when riding.
I am going to try the BT023's on the ST1100.

Bridgestone T30 are very good tyres for our ST1100
by Stefano
(Switzerland)
Hello, I have a kit of Bridgestone T30 (the BT-023 follower) on my ST1100 and I'm really happy with them. The front pressure tyre should be increased to 2.7 (instead of 2.5 as recommended by Honda) otherwise the tyre side will be used too much (it become "squared"), but the rear tyre pressure is ok with 2.9 (as recommended by Honda).

BT020 were good
by Dave
(London)
Just had a Bridgestone BT021 fitted to the front, and I have an 023 on the back which has done 13,000 km and is now badly squared off. The 020s used to give me about 20,000 km front and rear and handling was great.
With the current combo the low speed handling on cold tyres is absolutely dreadful and they're ridiculously sensitive to pressure. I hope everyone's right about the wear rate on the 021 because I can't wait to change it!

Anonymous, Apr 3, 2011
BT-021 I WANT MY MONEY BACK
THE WORST TYRES I HAVE EVER USED.
BRIDGESTONE'S BIGGEST BLLUNDER
BT-021 FIT ONLY ON A HAND CART.

BT023, expensive, good grip, but....
by Ali Finlay
(Scottish Borders, UK)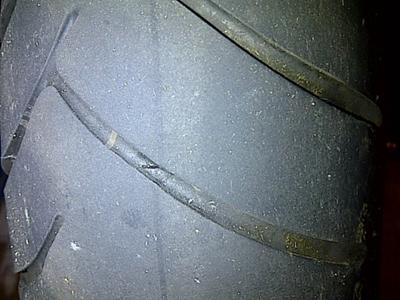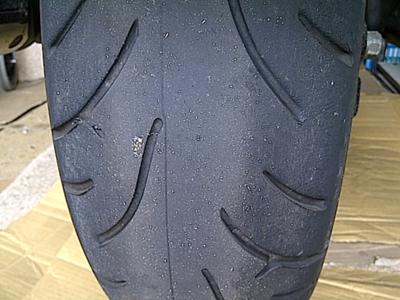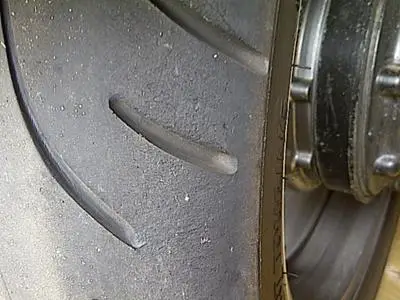 Fitted a pair of Bt023 at the start of the year after a disappointing experience with Avon Storm ST. These are quite expensive but I did get a good deal at the Scottish motorcycle show direct from Bridgestone.
Using the tyre pressures from the Bridgestone website I have found these to be very grippy in all, invariably wet, weather.
Been on now for 5200 miles and the both are squaring off, even the front. I have never had a front tyre square off before! I am not the last of the late brakers so bit puzzled by that one.
I ride mostly with pillion and in a spirited style on fast winding A roads, I find I can accelerate out of a corner with a handfull of throttle with no dramas unlike the Metzeler Lazertecs I used to use.
I would use them again if I can obtain them under £220 for the pair.
All in all a good tyre, does not produce a head shake, grips well, resonable wear but expensive.

stewart prestage, Sep 16, 2011
BRIDGESTONE TYRES
HI,I HAVE OWNED A 02 PAN 1100 FOR JUST UNDER THREE YEARS AND TO BE FAIR I HAVE NEVER FITTED ANYTHING ELSE BUT BRIDGESTONE TYRES.THE BIKE CAME WITH A O21 FITTED TO THE FRONT WHICH GAVE GOOD MILEAGE AND I CHANGE IT FOR 021 WHICH WAS RUBBISH
I AM NOW RUNNING ON BT 023 FRONT AND BACK.THE FRONT HAS COVERED SEVEN THOUSAND MILES TO DATE AND STILL HAS PLENTY OF WEAR LEFT IN IT. THE REAR HAS COVERED THREE THOUSAND MILES SO FAR AND IS HOLDING UP WELL.YES BRIDGESTONE ARE A BIT EXPENSIVE, BUT FOR ME AND THE ALL YEAR ROUND RIDING THAT I DO I AM VERY PLEASED WITH THESE TYRES AND I WILL FIT 023 TYRES IN THE FUTURE.CHEERS

Fitted 023's (not GT's) Spring 2014.
by Ray
(UK)
Tyres were fitted in April 2014 and the price at that time was comparable with other makes. Tyres fitted to ST1100W, UK bike. Both front and rear were worn to 1 mm in 7500 miles. Also both were badly squared off. I put the squared off wear to the two up plus luggage long jaunts. Bike probably around 500 kg for hours and hours of autoroute/motorway miles. Despite wear type and low tread the tyres performed well albeit it tipped into bends a little too sharply for comfort. Wet weather grip is excellent. Just fitted another pair, fitted to the bike for £220. Not cheap but good.

Low Mileage - cr*p.....
by Damon
(St Neots, UK)
My experience of Bridgestone: so far I've managed to get 6,131 and 7,333 miles out of my front BT-021s - and the 7k miles was very worn.
For the rear I've managed to get 11,037 - and that was showing canvas. The previous tyre had to be binned after 5k due to a puncture.
Given that I'm riding 20k miles a year commuting - 110 miles per day round trip its getting quite expensive! Of the daily trip 49 miles is on the A1 motorway and the other 7 miles is low speed through London traffic so I can't see where the wear is coming in. I'm also getting more wear on the front than the rear - is this due to braking?
I shall be trying something different next time - I don't do any high speed, fancy stuff so longevity is the main factor for me. Any hints would be greatly appreciated!!

Rgds,

Damon

Rob, Dec 3, 2010
Try a different make
Hi Damon
As you'll have read from previous comments about the Bridgestones, the mileage you've done on that rear isn't too bad (for a Bridgestone!).
As for the fronts wearing out before the rear, I have seen it suggested that one possible cause is that the front suspension may not be set up correctly for your riding style (I think this is unlikely though). My gut feel is that because the front and rears are made of a different compound, the compound used in your front tyre is not suited to your commuting route. On my ST1100 I've found that motorway riding always wore out the rear tyre more quickly than the front. I doubt it's anything to do with braking.
The only suggestion I can make is to try a different brand. Perhaps if enough riders ditch Bridgestone, they'll be forced to re-think their longevity issues.
See if you can get some Avon Storms. Perhaps you could then let us know how they're doing!

Damon, Dec 14, 2010
Shall be changing...
Hi Rob,
I shall definitly be trying some Avons in the future. Will also do a bit of research reference the suspension,
Cheers,
Damon

Rubbish tyre wear BT021
by Dave
(Manchester)
The BT021 front tyre on my ST1100 is worn to the legal limit after just 2,900 miles, I am in shock!!
The previous BT020 did nearly 8,000 miles so nearly treble the mileage. What are Bridgestone playing at?n

Ian McF, Jun 25, 2011
What!
that is ducking fidiculous
and I have just fitted a pair of BT021s to my Pan
I've done nearly 1,000 miles so far and the wear doesn't look too obvious so there is hope for me still

Anonymous, Aug 14, 2011
tyre wear
Great i've just fitted a new pair of 021s
arghhhhhhhhhh

Neutral Comments (good and bad)
by Alan
(Peterborough, South Australia)
I don't know what tyres were on the bike when I got it but when they needed replacing I put a set of Dunlop D205s then a Sportmax on. I went Bridgestone BT-21s after that for two sets. No problems with the front tyre, mileage about 12000kms compared to Dunlops 20000(D205)plus for the front wheel.
The rear tyre was a different matter as I had a puncture which I guess happens but at 3000kms which with a bike out in Australia means a new tyre. And 10000kms later needed a new tyre again.
Not exactly great mileage for a bike in touring mode. In the tyres' favour was my location having lots of straight roads and few corners between towns meaning centre tread wear mostly. The only cornering was to and from work in the town and roundabouts on main roads.

Alan, Dec 22, 2011
Bridgestone BT-23 Rear
I have just put my second BT-023 tyre on the bike.
When I put the other tyre on I checked the odometer and I have just checked it after new tyre went on. 11872 kms. Not even close to the 30 percent claimed increase in mileage.

Rob, Dec 23, 2011
Thanks for the longevity report!
Thanks for the update, Alan.

Alan, Sep 8, 2013
Still Running Bridgestone BT 23
I'm on my third set of Bridgestone BT 23s in three years. Before that there was a set or two of Metzeler Z6's which gave comparable mileage to the earlier BT 21's I've had before.
My last set of 23's gave 13,500 kms on Front and 9870 kms on the rear. Both these tyre had balancing beads as my tyre fitter can't balance bike tyres and this pair were both 1500 kms better than the previous unbalanced pair.
However on my current set I installed the GT specification (heavy tourer) BT 23 tyre which have only done 1000kms F and 300 kms rear so to early to compare with the standard tyre.
The front tyre is the OEM 120/70 ZR18 tyre and the rear is a 170/60 ZR17 (OEM 1300) as there wasn't an 1100 rear available. Some chose the 160/60 tyre but the load index for the tyre is to low for the 1100 so the 1300 170/60 tyre is a much better option.
Another thing is that different tyres than OEM spec might upset the ABS computer's speed calibration and revert the system back to standard braking.

---
Do you have any comments regarding Bridgestone tyres?